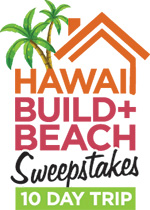 Hawaii Build + Beach Sweepstakes

Do you want to help Habitat for Humanity and be part of building a home alongside a future Habitat homeowner? You can win this wonderful trip to build and enjoy Hawaii's Big Island.

Sweepstakes winner + guest will receive:
• A 10-day trip on the big island, Hawaii (in Kona or Puna)
• Trip to take place between the months of April – December 2024.
• Airfare, accommodations, ground transportation, food & stipend for expenses are included.
• During the trip there will be the opportunity to explore the Big Island and participate in unique Hawaiian cultural experiences!

All donations proceeds go directly to Habitat for Humanity.
Canadian donors will receive receipts from Habitat for Humanity Canada directly, approximately by January 31, 2023 for donations made in 2022 & January 31, 2024 for donations made in 2023. US donors will receive receipts from Marketplace Events by January 31, 2024 for all donations made in 2023.

If you are not donating today but want to enter the sweepstakes, please fill out a mail-in entry form.

10 days to help change a family's life and enjoy Hawaii's Big Island.

Rules & Regulations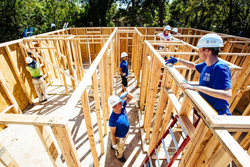 Our Partnership with Habitat for Humanity:

We strive to create uniquely vibrant marketplaces and believe that homes are integral to our families, customers and community. Marketplace Events is proud to partner with Habitat for Humanity to help create a world where everyone has a decent place to live. Our shows provide financial support, product donations through exhibitors, contributions from attendees and advocacy through outreach to our more than 1.5 million attendees and 2 million unique web visitors across North America. Join us in this mission to help build a place to call home for all of those in our communities.