Not sure about you, but our home's four walls are getting a bit stale this far into 2020. After spending more time in your personal space than usual, maybe your home is looking a bit more lived in and worn. Or, if you are like me you never noticed just how dated and shabby your décor really was…. If you are looking to spruce up your space, a simple color shift can do wonders. Our friends at Cloverdale Paint have some on-trend paint palettes that will freshen up your space, whether you need to make it cozy, tranquil, or even to liven up your walls.
A hallmark of these pallets that really modernizes them is their versatility. You can work any tone of wood or metal fixtures that you are using already in your home into these collections. Pine and brushed steel? Brass and maple? Walnut and bronze? These muted, modern pallets are set to fit right in with your existing features.
Urban & Fresh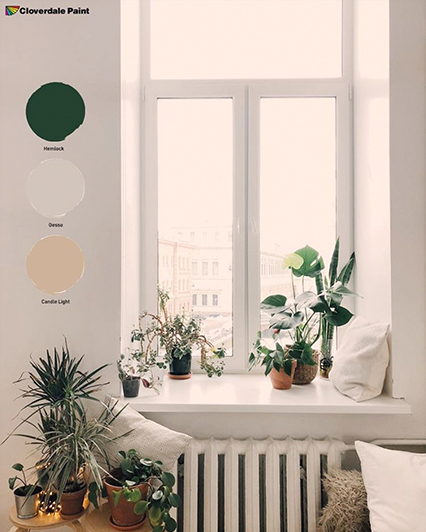 This ultra-modern palette of taupe, white and rich green is perfect for bringing a bright, airy, and calm vibe to your space. Great for smaller spaces where the light colors of Gesso and Candlelight open up the space a jewel-like deep green of Hemlock is a great accent color. It brings the bright and airy feel of nature into an urban condo or basement suite.
Greens all Around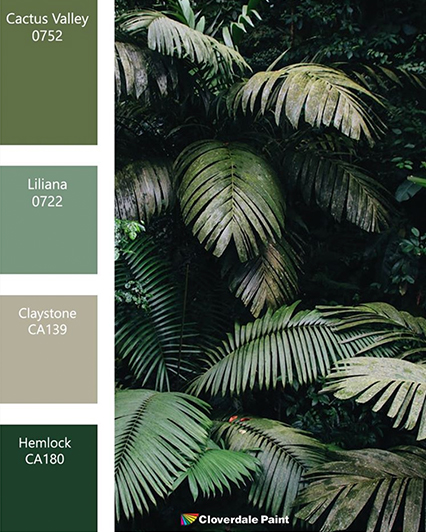 Really the key to décor in late 2020 is green. Whether you are extending the outdoors in or freshening up with a vibrant verdant splash, shades of green are a great neutral toned way to bring life back into your space. An accent wall of Liliana green will easily open up your space with minimal effort for a new calming feel. While a wall painted in Hemlock would bring a dramatic flair to a dining room.
Lakeside Latte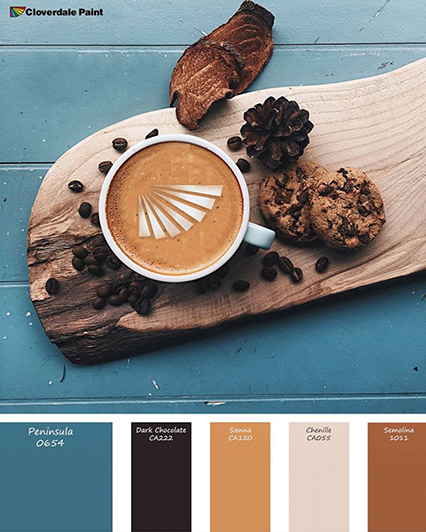 Featuring rich toffees and tranquil blues, this pallet is a great way to capture the feeling of 'early fall at the lake house' all year round. Warm café-au-lait and tobacco tones are freshened up with the Nordic feeling blue of Peninsula and biscuit of Chenille and Sienna. This color combo is a great way to feel warm and cozy while still fitting a modern aesthetic.
Caramelized Pear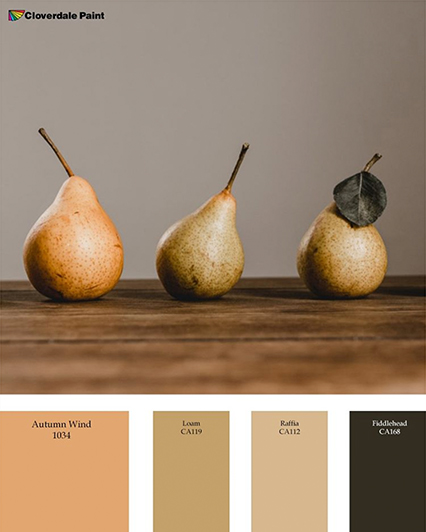 This is a classic palette of warm neutrals and has been modernized in muted tones that fit in with natural woods and terracotta tiles. The fresh but subtle shades of Loam and Raffia really suggest a soft summer breeze that fit the classic autumn palette of warming spices like Autumn Wind.
We hope you are spurred on to refresh your space with the inspiration from Cloverdale Paint. Make your space a calming and revitalizing one with a new look.