This or That: Dining Room Dilemma
It has seen home cooked meals, take-in, extra chairs, heated arguments, roaring laughter, spills, and so much more. It may not be the place where you eat every meal, but it hosts a lot of them. Sometimes it's reclaimed for homework, science projects, sorting your tax receipts, and several other tasks that require a large surface area. But whatever its purpose, it's always there when you need it, and it's a great spot to spend time as a family. That's right, we're talking about your dining room.

Typically one of the larger spaces in the home, the dining room can host a wide range of decor. Traditional, modern, and everything in between – all are welcome. So we've got to ask: what does your dream dining room look like? Which aesthetic is your favorite for this space? Do you prefer Option A's rustic modern blend? Or would you rather Option B's more traditional motif?

Option A
​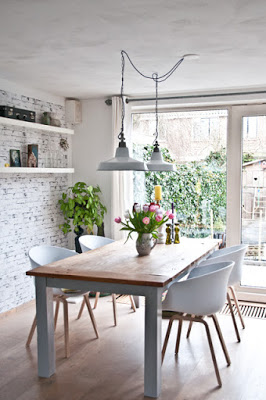 Option B
​

Our Choice:
As much as we enjoy the stately look of Option B, Option A feels more inviting. It's bright and open with less imposing furniture and lighting. The exposed brick is a fun touch and we're big fans of the more contemporary chairs. Option B certainly has an undeniable elegance, but it also appears a bit stiff. Option A seems less imposing and has the potential to be a more versatile space. Don't agree? Share your opinion with
@HomeShows on Twitter
– we'd love to know what you think!
Here's something we can all agree on: saving money is great! Right now you can
get 2-for-1 tickets
to this fall's Marketplace Events Home shows. Visit our
Facebook page
to learn more, and don't forget to Like Us while you're there!